As part of our extensive product range, Superior Pipeline Products have built an excellent reputation in the supply of Coated Carbon Steel Pipes, Fittings and Specials to the Water and Sewage Industries. All of our products are manufactured under strict quality control guidelines and our coatings and linings are approved to some of the most stringent standards for Potable Water. The ability to supply Pipes, Fittings and ad-hoc special assemblies, has enabled our clients, in a lot of cases, to reduce costs for time, materials and on-site jointing.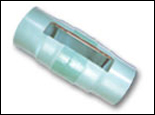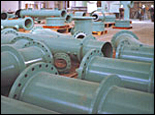 Our Fabriweld joint, shown opposite, enables the use of fillet welding on site and each joint can be tested on site. It is an easy to assemble joint eliminates the need for on site repair of internal coatings after welding of pipelines and eliminates the need of pipe entry by personnel after jointing has taken place. Typical applications include marine outfalls, bridge crossings, railway and motorway crossings or indeed anywhere that access is limited after installation is completed.
The complimentary fittings range includes all standard fittings such as Bends, Tees and Tapers and can fabricated specially to suit your needs. In most cases, we have the ability to eliminate some fittings and combine fittings so that the installation is easier and more cost effective for the clients offering excellent value for money on installed costs.
A full range of couplings, flange adapters and step couplings is also available to match existing pipeline installations to suit client needs and all of the fittings can be easily made in any length for non standard installations.
Our wall starters offer easy and low cost installations of most through wall pipes, or through wall connections. The normal procedure of passing pipes though walls leaving substantial box out sections is radically changed using the wall starter ensuring the pouring process is simplified and leak paths are completely eliminated. The Wall Starter is rigidly held between the shutters, the 'boxing out' process is eliminated and the Wall Starter is cast flush in the wall ensuring that the installation is in the required place with the required orientation each and every time, yet also provides angular deflection when required.
We can assist in the design of any pipeline, so why not contact us with your requirements and we will be pleased to help.